Chiloe Islands
After 8 days waiting to cross the Gulfo de Penas, the winds switched to W-SW, good for making the crossing. Once across the Gulfo we continued to have good weather and were able to progress easily north each day. We were now in the area of salmonaras, salmon farms, which become more numerous the closer to Puerto Montt one gets. These are very large, very productive and very sophisticated in their organization and technical aspects. Chilean salmon production in the aggregate is enormous and has been the major factor in the world market that has resulted in a significant price compression affecting sales of wild salmon stocks in Alaska.
We arrived on Chiloe Island a week ago and have been enjoying the tranquil rural setting. It reminds us very much of Vashon Island where we lived for 10 years. It is fall here now and we've been enjoying Indian Summer weather. The Chiloe Archipelago consists of the main island, Isla Grande, and dozens of tiny islands. Chiloe is known for its numerous wooden churches of a distinct ecclesiastical architecture. Most in existence today date from 1850 to 1910, but originals of the type emerged in the mid-18th century. More than 150 churches and chapels dot the islands, 16 which are UNESCO World Heritage sites. We will stay here another week or so before continuing on to Puerto Montt where we'll stay 2-3 months.
The plan was to go the mainland and travel overland through Chile Patagonia but Mt. Chaiten, just outside the town of Chaiten from which we would begin our trip, began erupting 6 days ago. It has been emitting huge amount of gasses and ash, covering the area in up to 18 inches of ash, and causing the evacuation of the nearby communities. As I'm writing this a hugh mushroom cloud has formed over the volcano. We are currently in a small marina outside Castro, the main town on Chiloe, and we have an unimpeded view of the eruption, less than 60 miles east. Satellite photos show that the plume runs due east across Argentina to Puerto Madryn on the Atlantic coast and out to sea.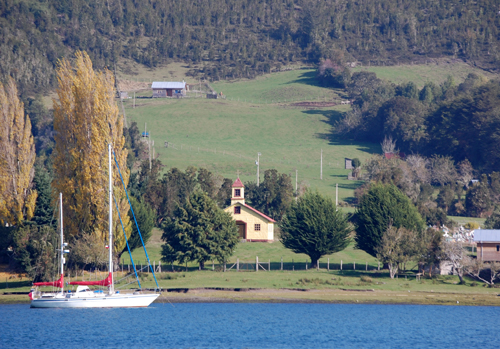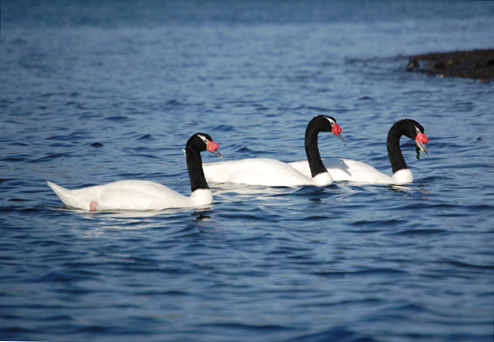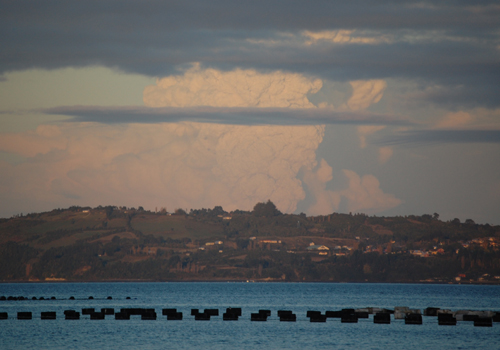 Labels: Chilean Channels, Chiloe Islands, Tamara